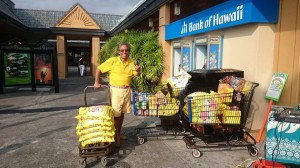 Today is the final day in Hilo for the 14th Annual Food Basket Feed-A-Thon! Join Tommy "Kahikina" Ching at KTA Keauhou today until 6pm!
One of five residents on the Big Island receives assistance from The Food Basket through a network of 80 partner agencies. This year's Feed-A-Thon goal is to raise enough food and money to provide 100,000 meals to feed the most vulnerable residents in the county.
Officials from The Food Basket say that one in four children on the Big Island are eligible for free or reduced school meals. Each year, the event aids the organization in providing food to families in need during the summer months when school is not in session.
To obtain more information about The Food Basket or to help feed the hungry on the Big Island, contact The Food Basket by calling 933-6030 or visit The Food Basket website.