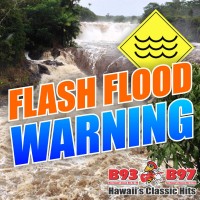 The National Weather Service in Honolulu has issued a Flash Flood Warning for the island of Hawaii in Hawaii County until 9pm this evening.
At 6pm HST Hawaii County emergency management reported that Highway 11 was closed between mile markers 58 and 59 at Kawa Flats due to water over the highway. Radar is showing areas of light to moderate rain in this area. There was heavy rain earlier this afternoon upslope which is now causing excessive runoff over the highway.
Locations in the warning include but are not limted to Naaleha, Kawa Flats, Punaluu Beach, Pahala and Hawaiian Ocean View.