Congratulations to Charles Varner Key #5 and WINNER of the East Hawai`i Santa Christmas Chest Giveaway!

Charles took home all of these great prizes from:
-$250. IN CASH FROM LIKO LEHUA CAFE'
-AN APPLAE IPAD FROM HIRAYAMA BROTHERS ELECTRIC
-$250. GIFT CERTIFICATE FROM ZIPPY'S RESTAURANT
-43 INCH FLATSCREEN HDTV FROM BLANES DRIVE IN
-PATAGONIA BACKPACK FULL OF ALL YOUR BEACH ESSENTAILS INCLUDING A LIMITED EDITION "SHAVE ICE" HYDROFLASK, G-SHOCK WATCH AND MORE FROM KAPOHO KINE ADVENTURES
-$250 GIFT CERTIFICATE FROM CAFE PESTO HILO BAY
-$100. GIFT CERTIFICATE AND GIFT BASKET FULL OF YOUR FAVORITE LOCAL PRODUCTS FROM KEAUKAHA GENERAL STORE
-EXCITING ZIP FOR 2 FROM UMAUMA FALLS, ZIPLINE AND RAPPEL EXPERIENCE
-DELUXE CAMPING PACKAGE INCLUDING TENT, WATER FILTRATION SYSTEM, BINOCULARS AND MORE FROM HILO SURPLUS STORE
-ROTO MOLDED EXTRA LARGE ROLLING COOLER WITH QUICK RELEASE PRESSURE VALVE FROM MANONO MINI MART
-SHOCKPROOF, WATERPROOF GOPRO HERO 7 SILVER CAMERA FROM FREDDY'S RESTAURANT
-A $250 SHOPPING SPREE FROM JEFF HUNT SURFBOARDS
CONGRATULATIONS TO Lynn Aoki-Tokuyama WINNER of the West Hawai`i Santa Christmas Chest Giveaway!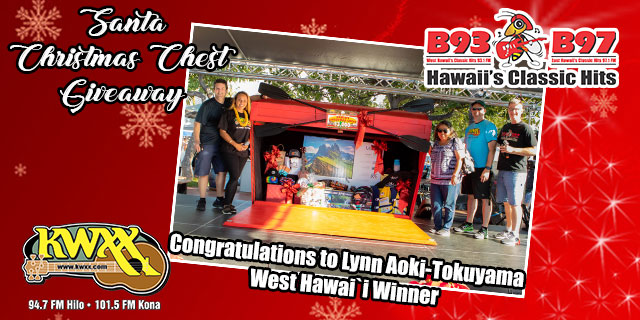 Lynn took home thousands of dollars in prizes including: 
-A KAYAK SET, INCLUDING KAYAK, SEAT, PADDLE AND LIFE VEST FROM PLENTY PUPULE KAYAKS
-55 INCH FLAT SCREEN TV FROM KONA AUTO CENTER
-A PRIZE PACKAGE VALUED AT $250. FROM HIRAYAMA BROTHERS ELECTRIC
-PATAGONIA BACKPACK FULL OF ALL YOUR BEACH ESSENTAILS INCLUDING A LIMITED EDITION "SHAVE ICE" HYDROFLASK, G-SHOCK WATCH AND MORE FROM KAPOHO KINE ADVENTURES
-AN UKULELE FROM KIERNAN MUSIC
-$250 GIFT CERTIFICATE FROM CAFE PESTO HILO BAY
-$250 IN KONA BREW LOGO SWAG FROM KONA BREWING COMPANY
-EXCITING ZIP FOR 2 FROM UMAUMA FALLS ZIPLINE AND RAPPEL EXPERIENCE
-GIFT BASKET VALUED AT $250. FROM KONA WINE MARKET
-SWAG BAG WITH OVER $250. IN HARLEY MERCHANDISE FROM BIG ISLAND HARLEY DAVIDSON