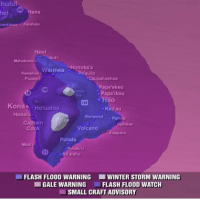 The National Weather Service has extended the  Flash Flood Warning for the Hamakua, North and South Hilo, Kau, and Puna Districts of County of Hawaii until 1:50am Sunday.
A Flash Flood Warning means flash flooding is imminent or already occurring.
Due to the Flash Flood Warning:
·        The following roads are closed due to flooding.
o   Highway 11 in the Kau District closed between mile marker 57 and mile marker 60.
o   The Daniel K. Inouye Highway (also known as Saddle Road) is closed between mile marker 11 and mile marker 18 on the Hilo side of the saddle.
o   Bay Front Highway in Hilo.
o   Kamehameha Avenue in Hilo.
·        Conditions are not predictable at this time so please stay at home tonight.
·        Do not attempt to cross flowing water; turn around, don't drown.
Stay tuned to your radio for updates and changes in conditions.
SEE THE LATEST SATELLITE AND RADAR IMAGES AT WWW.KWXXWEATHER.COM