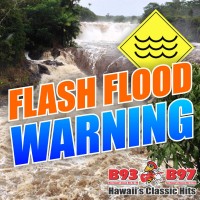 This is a Civil Defense Flash Flood Warning update for Sunday, January 12 at 8:00 in the morning.
The National Weather Service Flash Flood Warning continues for County of Hawaii through today.
A Flash Flood Warning means flash flooding is imminent or occurring.
Due to the Flash Flood Warning, the following are advised.
·        Conditions are life threatening, please stay out of areas that are flooding, this is no time for sightseeing.
·        Be aware of Subdivisions in Puna and Kau susceptible to flooding and stay out of those areas. Special emphasis for Orchidland, Eden Roc and Hawaiian Acres of Puna and Wood Valley in Kau.
·        Do not attempt to cross flowing water.  Turn around, don't drown please, limit your travel to necessary trips as driving conditions are dangerous and life threatening.
·        Due to flooding conditions County Mass Transit bus routes maybe interrupted without notice.  Please keep yourself up to date by visiting HeleOnbus.org for the latest bus schedules and cancellations.
·        For information on shelters contact Civil Defense at 935-0031.
Due to Flooding the following roads are closed;
·        Exercise extreme caution in Puna subdivisions Orchidland, Eden Rock and Hawaiian Acres due to flooding.
·        Highway 11 in Ka`u between the 57 and 62 miles markers at Kawa.
·        Daniel K. Inouye Highway, also known as Saddle Road, on the Hilo side of the saddle between the 11 and 18 Mile Markers.
·        In Hilo, Bay Front Highway and Kamehameha Avenue.
·        Please remember on road closures may occur without notice.
You will be notified of changes that may affect your safety.
Stay tuned to KWXX for updates and changes in conditions
(Approximate locations of major road closures)