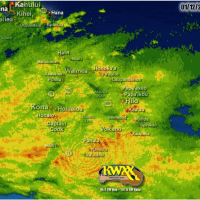 The National Weather Service in Honolulu has extended the Flash Flood Warning for the Island of Hawaii / Hawaii County until 1:30pm HST.
* At 1022 AM HST, radar showed moderate rain occurring over most of the Big Island, with some embedded heavy showers, however significant flooding impacts continue, primarily on the windward side. Big Island Civil Defense reports numerous road closures, due to heavy runoff and debris on roadways. Avoid unnecessary travel.
CURRENT ROAD CLOSURES
Wood Valley Road in Ka'u
Hwy 11 near the 16 mile marker and cross street Mauna Loa Drive (Mt. View)
Kopua and Kahiopele Street in upper Puna
Bayfront Highway in Hilo
Kamehameha Avenue and Pauahi Street in Hilo
Daniel K. Inouye Highway between the 11 and 18 mile markers.
HAZARD…Life threatening flash flooding.
SOURCE…Emergency management.
IMPACT…Significant and life threatening flooding in drainages, streams, rivers, roads, properties, and other low lying areas. Multiple public road closures expected, as well as landslides in steep terrain.
* Some locations that will experience flooding include Windward Big Island from Upolu Point to Honokaa to Hilo to South Point.
PRECAUTIONARY/PREPAREDNESS ACTIONS…
Stay away from streams, rivers, drainage ditches, and culverts, even if they are currently dry.Do not cross fast flowing water in your vehicle, or on foot. Find an alternate route. Turn around, don`t drown.