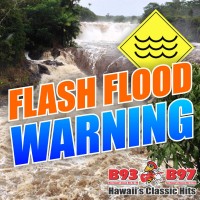 The Flash Flood Warning has been extended until 715pm.
The National Weather Service has extended the Flash Flood Warning for the Hamakua, North and South Hilo, Kau, and Puna Districts of Hawaii Island.
A Flash Flood Warning means flash flooding is imminent or already occurring.
The following advisories are issued:
· Highway 11 is closed in Kau between the 57 and 62 mile markers.
· Conditions are life threatening, please stay out of areas that are flooding, this is no time for sightseeing.
· Roadways may close at any time; be on the alert for run-off, ponding of water, and debris.
· Do not cross moving water in a vehicle or on foot; turn around, don't drown.
Stay tuned to your radio for updates and changes in conditions.
See the latest weather satellite and radar images at www.kwxxweather.com