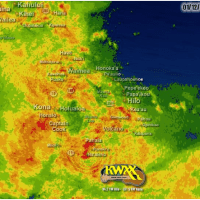 The National Weather Service Flash Flood Warning continues for Hamakua, Hilo, Puna, and Ka`u Districts through 7:30am today.
A Flash Flood Warning means flash flooding is imminent or occurring.
The following roads are closed:
·        Highway 11 in Ka`u between the 57 and 60 miles markers at Kawa.
·        Daniel K. Inouye Highway, also known as Saddle Road, on the Hilo side of the saddle between the 11 and 18 Mile Markers.
·        Bay Front Highway.
·        Kamehameha Avenue between Pauahi Street and Ponahawai Street.
Due to the Flash Flood Warning, the following are advised.
·        Conditions are not predictable.  Flooding could occur in other locations without notice.
·        Do not attempt to cross flowing water.  Turn around, don't drown.
·        For information on Sand or Sandbags, please call Civil Defense at 935-0031.
·        If you are experiencing emergency conditions of flooding, call 9-1-1.
Stay tuned to your radio for updates and changes in conditions.
GET THE LATEST RADAR AND SATELLITE IMAGES AT: WWW.KWXXWEATHER.COM