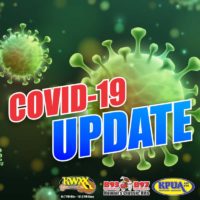 The State Department of Health reports that as of Wednesday, March 25, 2020 at noon, there are a total of 95 cases of COVID-19 identified in the state, with 6 having been confirmed in the previous 24 hours.  Hawaii Island has had a total of 5 cases, with none new cases confirmed in the past 24 hours.
State Health Director Bruce Anderson in a Wednesday afternoon press conference noted that the 14-day quarantine for all incoming travelers begins tonight, Wed., at midnight.  And consistent with the Governor's order, all people in the state are asked to "stay at home, work at home" through April 30, 2020.  Anderson noted there is no evidence of widespread community transmission and that the majority of cases are travel-related, either people who have traveled or been in contact with those who have.
Anderson said around 4,600 tests have been run in the state.  Ninety five have been positive, and 4,500 have been negative.
Novel Coronavirus in Hawaii
COVID-19 Positive* Cases
Cumulative totals as of 12:00 noon on March 25, 2020

Total (new): 95 (6)

County

HI Residents
Non-HI Residents
Total
  Hawaii
2 (0)
3 (0)
5 (0)
  Honolulu
63 (4)
5 (0)
68 (4)
  Kauai
1 (0)
4 (1)
5 (1)
  Maui
10 (1)
3 (0)
13 (1)
Pending: 4 (0)
Total Required Hospitalization: 5 (0)
Total Deaths: 0 (0)
*includes presumptive and confirmed cases, data are preliminary and subject to change; note that CDC provides case counts according to states of residence.
Tags: