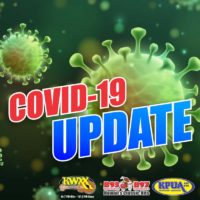 The State Department of Health has updated their count of COVID-19 cases for Hawaii County overnight, increasing the official state count of Big Island COVID-19 cases to 18, or 3 more than what had been confirmed on Tuesday, Mar. 31.
Hawaii County  Civil Defense says the Big Island has had 22 cases, 9 of which are active, 13 of which are recovered.  The State DOH COVID-19 location map indicates most cases are in the Kailua-Kona area, however Director Bruce Anderson has stressed that most people contracted their cases while traveling or from contact with travelers.   Several cases are in returning college students.
Anderson and health experts nationwide say the best way to flatten the COVID-19 curve and not pass  nor contract the disease is to stay away from others, ie social distance, stay at least 6 feet away from others.  Experts say one can be asymptomatic and still have and pass COVID-19, so social distancing is critical.
Hawai'i COVID-19 Cases
Cumulative totals as of 12:00 noon on April 1, 2020
 
New as of
4/01/2020
Reported since
2/28/2020
Total Cases
34
258
–
Residence
HI Residents
26
220
Non-HI Residents
1
21
Unknown
7
17
–
County of Diagnosis
Honolulu
25
182
Hawaii
3
18
Maui
1
26
Kauai
0
12
HI Residents diagnosed outside of HI
0
2
Unknown
5
18
Released from Isolation
Total released
11
69
Hawai'i deaths
0
1
–
Risk Factors
Travel
18
138
Community
0
12
Unknown
16
108
–
Tags: