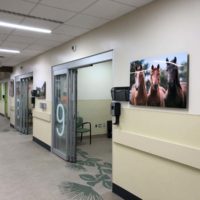 Queen's North Hawaii Community Hospital is restoring some of its clinics and outpatient services such as imaging and rehabilitation services, and is also now going to allow elective surgeries.  They were mostly put on hold to limit the spread of COVID-19 and free up hospital capacity to treat possible COVID-19 patients.
"In recent days, the growth of new coronavirus cases has slowed and data suggests that the state won't run out of hospital beds and other resources as many had feared.  With this positive trend and the added precautions we have taken, we can safely care for our community members' healthcare needs," said Cindy Kamikawa, President, Queen's North Hawai'i Community Hospital.  "Telehealth is still an option but we want people to know if it safe to come in for an in-person visit."
The hospital has initiated numerous procedures to ensure a safe environment for patients and staff:
Everyone entering the hospital or clinics will be screened and asked to wear a mask and sanitize their hands. If a patient does not have a mask, we will provide one for them.
Seating in waiting rooms has been adjusted to help assure social distancing.
Visitors are not allowed in hospitals or clinics.
Staff members have been trained in the latest Centers for Disease Control and Prevention (CDC) protocols, and have all the necessary equipment to safely care for all patients in our community.
All equipment, surfaces, and public areas are cleaned with a disinfectant approved for use and effective in killing COVID-19.
The hospital plans to resume surgical services next week.  Leaving one's home to seek medical care is an essential and allowable activity under the State's Stay-at-Home order.

Queen's North Hawaii Community Hospital is continuing its COVID-19 screening and testing on Mondays, Wednesdays, and Fridays at the hospital's Emergency Department from 10 a.m. until 2 p.m.

Tags: