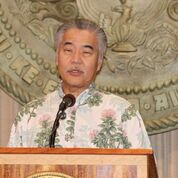 Governor David Ige has announced that the State has a new policy, replacing the "Stay at home" order with a "Safer at home" order.
Ige said the new guidelines are possible because the case count of COVID-19 has flattened, the state has adequate testing going on to determine if people have COVID-19, our healthcare system's capacity is adequate to handle COVID-19 cases, and there is appropriate contact tracing.
In addition, the state has antibody testing now to allow state health and government officials to determine how many people have had COVID-19 whether or not they know it.
This means that several businesses may reopen, as long as they are practicing appropriate sanitation and social distancing policies and ensuring safety for employees and customers.  At a morning press conference, Ige announced he'll release his Seventh Emergency Proclamation today, but said that certain businesses will be able to reopen, with precautions.
The order is effective Thursday, May 7, at 12:01 a.m.   But he emphasized that people are "safer at home," even though he is lifting the "stay at home" order.
Members of the community must ensure they also wear masks and social distance wherever they are. He said in a press conference on Tuesday that the businesses would include those such as:
non-food agriculture, including landscape, floral and ornamentals
astronomical observatories and support facilities
car washes
pet grooming services
social service agencies
health care, including elective surgery and non-emergent services
non profit organizations
retail businesses and services, including apparel and electronics
shopping malls, but not for gatherings
wholesale and warehousing operations
These permissible reopenings are in addition to those business previously granted permission to be open. They include florists, certain real estate services, car dealerships, automated and mobile service providers, services provided on a one-on-one basis, and golf courses.

Schools and childcare, restaurants and food courts are not on the list of those Gov. Ige mentioned as being able to reopen.  Restaurants may still provide takeout and delivery.

Governor Ige also said should the State's COVID-19 cases have a surge, he would reimpose sanctions as needed.

Once the Governor's Seventh Emergency Proclamation is released we will include it on this news site.

Tags: