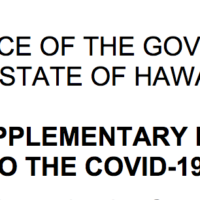 Governor David Ige released his Seventh Supplemental Emergency Proclamation on  Tuesday, May 5, at 9:11 p.m.  This Proclamation details which businesses may now reopen, following the temporary closure of most businesses on March 25.
At a Tuesday morning press conference, Gov. Ige said the new guidelines are possible because the case count of COVID-19 has flattened, the state has adequate testing going on to determine if people have COVID-19, our healthcare system's capacity is adequate to handle COVID-19 cases, and there is appropriate contact tracing.  Over the last two weeks, the daily increase in COVID-19 cases has been in the low single digits.
Gov. Ige emphasized the new order is "Safer at Home," and that residents should still stay home whenever possible.  When out, people need to wear masks or face coverings when close to others and still maintain the 6-foot distance between themselves and others.
Under Phase 1 of the state's re-opening, certain businesses and operations may re-open starting May 7, 2020 at 12:01 a.m.
Gov. Ige noted counties may have different plans.  On O'ahu, most retail will not be allowed open until May 15, and in Maui County, malls, retail, and repair shops other than automotive and appliance shops may not yet reopen.  City and County of Honolulu Mayor Kirk Caldwell says the May 15 date will give businesses a chance to thoughtfully prepare to reopen with the distancing and sanitation measures in mind.
On Kaua'i, Mayor Derek Kawakami is lifting the night-time curfew.
Hawaii County has not at this time issued any new guidelines.
The Governor's press release says the following businesses may reopen, subject to county modifications:
Agriculture (non-food), such as landscape, ornamental plant growers, and nurseries
Auto Dealerships
Car Washes
Pet Grooming Services
Observatories & Support Facilities
Retail & Repair Services, such as apparel, florists, watch & surfboard repair (Note: retail does not re-open in City & County of Honolulu until May 15, and retail & most repair will not re-open in Maui county.)
Shopping Malls – limited to retail and repair services (Note: shopping malls are not reopening in Maui county.)
The press release indicates Child Care facilities may reopen, but they are not detailed in the Proclamation.
Gatherings of more than 10 people are not permitted.  And in his media briefing, Gov. Ige said should cases of COVID-19 start to surge, sanctions, closures, and other restrictions may be imposed.
All businesses are required to follow social distancing and hygiene and sanitation procedures.   Guidelines recommended by the Centers for Disease Control say this means implementing physical distancing requirements such as capacity limits and ensuring 6 feet or more between individuals using floor markings and signage; limit in-person work when possible; reduce the number of high-touch surfaces and objects as much as possible; reconfigure workplace to enable physical distancing if possible; communicate health and safety protocols to all employees, customers and visitors.
The mandatory 14-day self-quarantine for all incoming and interisland travelers remains in place.
Click here for the Seventh Emergency Proclamation.