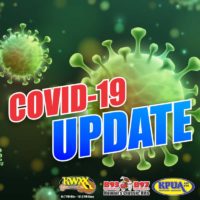 The State Department of Health reports that Hawaii has added two new cases of COVID-19 since Tuesday.  O'ahu has one, and Hawaii Island has one, meaning in the last several days, Hawaii County has added 4 to its count.  State Department of Health has not yet provided additional information other than that two of the newest cases are related to somebody coming back from California and testing positive.  The Big Island has 79 cumulative cases, with 3 active, according to State DOH.  O'ahu now has 416 cumulative cases, with 31 active.  The state's total count is 643, with 578 released from isolation.
With the overall low growth of COVID-19, Governor David Ige is giving the counties flexibility to reopen businesses.  On the Big Island, Mayor Harry Kim has today allowed beach parks to reopen, with some restrictions in place regarding social distancing and the size of groups that may gather.  On the other islands, some businesses and shopping malls are reopening, and next Monday on Maui, hair salons may reopen.
Health experts nationwide say ramping up testing is the key to keeping businesses open, and on O'ahu on Tuesday, Mayor Kirk Caldwell announced a plan to not just ramp up testing (COVID-19 and antibody testing) but also to test wastewater to gauge community spread of the virus, especially as tourists return.
Cumulative totals as of 12:00 noon on May 20, 2020
Statewide
COVID-19 Positive* Cases
| | |
| --- | --- |
| Total Cases | 643 (2 newly reported) |
| Released from Isolation† | 578 |
| Required Hospitalization | 82 |
| Deaths | 17 |
By County
COVID-19 Positive* Cases
| HAWAII COUNTY | |
| --- | --- |
| Total Cases | 79 total |
| Released from Isolation† | 76 |
| Required Hospitalization | 1 |
| Deaths | 0 |
| HONOLULU COUNTY | |
| --- | --- |
| Total Cases | 416 total |
| Released from Isolation† | 385 |
| Required Hospitalization | 57 |
| Deaths | 11 |
| KAUAI COUNTY | |
| --- | --- |
| Total Cases | 21 total |
| Released from Isolation† | 20 |
| Required Hospitalization | 1 |
| Deaths | 0 |
| MAUI COUNTY | |
| --- | --- |
| Total Cases | 117‡ total |
| Released from Isolation† | 97 |
| Required Hospitalization | 22 |
| Deaths | 6 |
| HI Residents diagnosed outside of HI | 10 total |
| --- | --- |
| Required Hospitalization | 1 |
*Positive cases include presumptive and confirmed cases, and Hawaii residents and non-residents; data are preliminary and subject to change. Note that CDC provides case counts according to states of residence.

†Includes cases that meet isolation release criteria (Isolation should be maintained until at least 3 days (72 hours) after resolution of fever and myalgia without the use of antipyretics OR at least 10 days have passed since symptom onset, whichever is longer). (The cases that have died and one case that has left the jurisdiction have been removed from these counts).

‡One case is a Lanai resident whose exposure is on Maui Island and who will be remaining on Maui Island for the interim.

Tags: