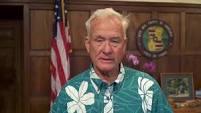 On O'ahu, Mayor Kirk Caldwell is allowing in-person spiritual services to reopen this Saturday, May 23, and is allowing restaurants to reopen as of June 5.
Mayor Caldwell issued his latest order on Thursday, May 21, and it requires that any businesses or houses of worship that reopen must have procedures for sanitizing the facility and must have people stay at least 6 feet apart, unless they are part of a family living unit.
Bars and nightclubs must remain closed.  Restaurants that reopen for table service have guidelines, and patrons must wear masks except when seated at their tables.  Menus must be disposable or sanitized between uses, and condiments must either be served in individual packets or the containers must be sanitized between uses.  And self-serve and buffets are not permitted.  Restaurants are also allowed to put tables outside, on city property, subject to certain conditions.
All the provisions are contained in the Mayor's Emergency Order 2020-13, issued May 21.  They affect only the island of O'ahu.
On  Tuesday, Mayor Caldwell announced a program to ramp up COVID-19 testing and to test wastewater to track the spread of COVID-19 as the City and County of Honolulu reopens.
Hawaii County Mayor Kim allowed most county beaches to reopen Wednesday, but has not yet issued orders relative to restaurants or church services.