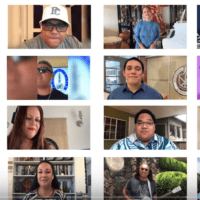 Several of Hawaii's musical artists have come together to honor Hawai'i's graduating Class of 2020. The tribute video will showcase two songs, "Goodtimes Together" by Cecelio & Kapono and "Friends" by Michael W. Smith – popularized locally by Nā Leo Pilimehana (Nā Leo).  The musical tribute features  23 Hawai'i music artists.
The video displays the logos of 107 public, charter and private schools throughout Hawai'i with graduating seniors. The project, a brainchild of multi Nā Hōkū Hanohano award winning music artists Lehua Kalima – 1/3rd of Nā Leo – and Shawn Pimental, wanted to find a way to honor this year's graduating class.
"There will be no gatherings with classmates and teachers to celebrate their accomplishments, no photos of them smiling with leis up to their foreheads surrounded by their friends and families," Kalima described to fellow artists while asking for their participation.
Kalima, whose own son will be graduating from Kamehameha Schools Kapālama, and Pimental – a partner in 'Upena Production Network – along with his business partner Michael Grande, produced a track and sent to participating artists throughout Hawai'i. Filmmaker Keli'i Grace of KSG Films compiled each artists' tribute to Hawai'i's Class of 2020.
Expenses were covered by donations by Hawai'i Community Foundation and former Hawai'i media executive, Rick Blangiardi.
"We are extremely grateful for the support and especially to my fellow artists who responded with only a few days turnaround.  Congratulations, Class of 2020," Kalima said.
The artists featured:
Del Beazley and Kapua Beazley

Kala'e Camarillo

Kamaka Camarillo

Kalenakū DeLima

Amy Hānaiali'i Gilliom

Nāpua Greig

Nālani Jenkins

Kainani Kahaunaele

Kawika Kahiapo

Josh Kahula

Lehua Kalima

Henry Kapono

Pomaika'i Keawe-Lyman

Kimie Miner

Angela Morales

Sean Na'auao

Kala'e Parish

Shawn Pimental

Jonah Solatorio

Josh Tatofi

Ana Vee

Mark Yamanaka