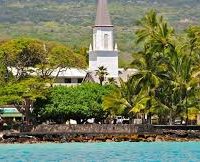 President Donald Trump on Friday said he is declaring houses of worship, of any faith, as essential businesses.
The Centers for Disease Control (CDC) has guidelines at its website for reopening places of worship, which includes information about sanitation, having a place to isolate those who are sick, having attendees wear cloth face coverings and stay apart,  having hand washing facilities available, and also a caution to adhere to local officials in reopening.  The CDC has a checklist of Frequently Asked Questions for faith leaders.
Dr. Debra Birx of the White House COVID-19 Task Force said individuals must also make their own decisions about whether it's safe to gather with others based on their own health and any community spread of the novel coronavirus.
In Hawaii, Governor David Ige is leaving decisions on reopening businesses, restaurants, public spaces, and houses of worship to the Mayors, with the Governor's concurrence.
On O'ahu, Mayor Kirk Caldwell announced that houses of worship may reopen, with precautions, on Saturday, May 23.
On Maui, Mayor Michael Victorino in a Wednesday press conference said religious and non-religious drive-in services may begin today.  Attendees must stay inside the vehicle with members of the same household for the entire service. Windows, sunroofs and convertible tops must remain closed unless parked six feet away from another vehicle. Sitting in truck beds is not allowed.  The Mayor's office also said he will submit a request to Gov. Ige to allow houses of worship to reopen for regular services (with COVID-19 precautions in place) as soon as May 29.
On Kaua'i, Mayor Derek Kawakami said yesterday in his regular update that he has received the Governor's concurrence to reopen church services as of today.
All three county mayor say precautions (mask-wearing, hygiene, distancing) must be followed to keep people safe from COVID-19.
On Hawaii Island, Mayor Harry Kim has announced the reopening of county beach parks, but has not yet made any announcement about reopening restaurants or church services.  Several retailers are open.
The CDC may be issuing additional guidance for churches and mosques soon.
Photo is Mokuaikaua Church in Kailua-Kona, the oldest Christian Church in the state.