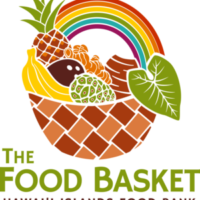 The United States Census Bureau reports that nearly half of American adults lost employment since mid March, and about a third of Americans are experiencing food insufficiency.  On Hawaii Island, many people are experiencing food insufficiency for the first time, and the Hawaii Island Food Basket director reassures people that many, many people who have never needed food before — do now.  There is no shame connected with getting help.
The the new U.S. Census Bureau Household Pulse Survey was conducted between  April 23 and May 5, with invitations sent to 1,867,126 households, with  74,413 responses.
Among the population of adults 18 and over, 47% either lost employment income or another adult in their household had lost employment income since March 13. Thirty-nine percent of adults expected that they or someone in their household would lose employment income over the next four weeks.  About 10% of adults reported that they did not get enough of the food they needed some of the time or often. Another 32% report getting enough, but not the kinds of food they needed.
On Hawaii Island, Hawaii Island Food Basket Director Kristin Frost Albrecht says the situation is more dire.  The Big Island's unemployment is officially around 24%, but some believe it's as much as a third of the population.  Not everybody has been able to even get into the state's Unemployment Insurance web site to register as having become jobless.
In a discussion on Wednesday, May 20, Kristin said the demand on the island has grown.  In April, the Food Basket provided food for around 32,000 people and they are expecting to serve 50,000 this month.   In just in the month of April alone,  the Food Basket spent $300,000 on buying refrigerated food.  It's now spending in a month what it would normally spend in half a year.    They've been receiving generous donations, including $100,000 each from the Hawaii Community Foundation, the Jeanette and Harry Weinberg Foundation, the Thirty Meter Telescope International Organization, and one anonymous donor– but the need is still significant.
Frost Albrecht said any monetary donations are very welcome, and can be made online at hawaiifoodbasket.org or by mailing a check to Hawaii Island Food Basket to 40 Holomua Street, Hilo HI  96720.  They also welcome donations of fresh fruits and vegetables, locally-caught fish and meat.  They can be brought to the Food Basket locations at 40 Holomua Street in Hilo or on Hina Lani Road above Costco, at the Homes at UluWini.
The Food Basket is doing drive-through O'hana Food Drops 16 times a month, and Frost Albrecht says that will continue.   For that schedule, go to hawaiifoodbasket.org
New West Broadcasting's Island Conversation host Sherry Bracken talked with Kristin Frost Albrecht to learn more.  Click here for that interview.
Photos are National Guard members loading food into a vehicle at the May 21 'Ohana Food Drop at Old Kona Airport Gym, and vehicles lined up to get food.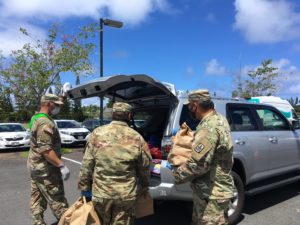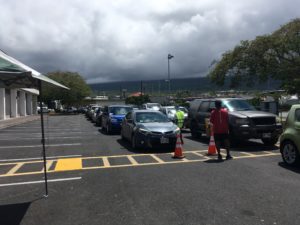 Tags: