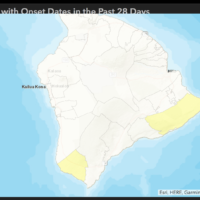 The State Department of Health provides state and island maps to indicate where the most recent COVID-19 cases are.   DOH generally does not release specifics about the location of cases, although when there were large outbreaks at Maui Memorial Medical Center and the three McDonald's restaurants in Kailua-Kona, the Department did confirm the locations.
DOH says Hawaii Island has only two active cases now (out of 83 cumulative) as of Saturday, June 20 at noon, and only one according to the Hawaii County Civil Defense Agency's Sunday morning message.
The map shows the location of cases within the last 28 days, which would be Sunday, May 19, 2020, at which time the island had 78 cases.   The map indicates the residence or lodging location of those 5 cases announced since May 19.    The State Department of Health says the map does not indicate where the people may have contracted the virus.  Hawaii County Mayor Harry Kim has indicated the most recent cases have been travel related.
The original maps are here.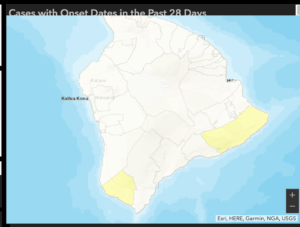 Tags: