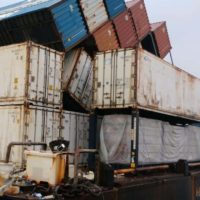 After initial reports by fishermen and then State Senator Kai Kahele early this morning that at least twelve 40-foot containers fell off a Young Brothers barge on its way to Hilo, the Coast Guard this afternoon reports that the number is believed to be 21.
The Coast Guard release says the crew of the tug and barge Ho Omaka Hou did not realize the containers were missing until after mooring in Hilo.  So far, 9 containers have been located.   Some containers are reportedly adrift approximately 8 miles north of Hilo, and one is reported adrift in Hilo Harbor.
The Coast Guard is working with Young Brothers personnel to assess the situation further, including determining what cargo is lost.  Marine safety personnel were dispatched to the incident command post in Hilo, and an overflight is taking place to help locate the containers. The State of Hawaii Department of Transportation – Harbors Division is also aware and assisting at the pier in Hilo.  

At the time of the incident, the weather was east winds at 12 mph, waves to 4 feet with a south swell at 3 feet, and isolated showers.
Mariners are warned to be on the lookout as the containers pose a hazard to navigation.
This comes at a time when Young Brothers has asked the State Legislature to give the company $25 million to fund what it expects to be a shortfall this year due to a reduction in shipping because of COVID-19.  In a cost-cutting measure, it reduced its barges to Hilo from two a week to one.  In a Facebook post this morning, Sen. Kahele speculated that the barge may have been overloaded as a result.  Sen. Kahele said he plans to call for an investigation.
For an earlier story about this, click here.
Photos courtesy State Senator Kai Kahele via his Facebook page