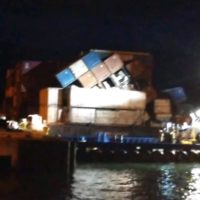 Early Monday morning, local fishermen reported seeing a number of shipping containers floating near Hilo–containers that appeared to have fallen off the Young Brothers barge en route to Hilo.
State Senator Kai Kahele posted a number of photos that showed the state of the barge when it arrived in Hilo Harbor this morning, and said he had received confirmation that approximately 12 containers had fallen off the Young Brothers shipping barge just north of Hilo earlier in the morning.
This barge sailed on Saturday from Honolulu and was scheduled to arrive in Hilo this morning.  Young Brothers has asked the State Legislature for $25 million to offset its projected losses due to reduced shipping during the COVID-19 pandemic.  The Public Utilities Commission got a report from Jay Ana, President of Young Brothers, in which the company detailed several cost-cutting measures it was implementing.  One of those was reducing the number of barges coming into Hilo from two to one a week–a move being protested by the community.

Kahele said in a Facebook post "It is clear by the photos that this barge is overloaded and should not have been loaded 5 high on the entire barge rather than normal operations which is 5 high on the straight away."
The State Legislature is reconvening today for a three-week session, and Kahele said he will explore what happened with his colleagues, including Hawaii Island Senator Lorraine R. Inouye, Chair of the Transportation Committee.  Kahele said Young Brothers needs to inform authorities what is in the containers that fell into the ocean and if there are any hazardous materials in them.  He also said he supports the community in its request to have the second barge restored to Hilo.
Photos courtesy State Senator Kai Kahale, from his Facebook postings.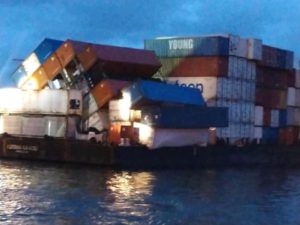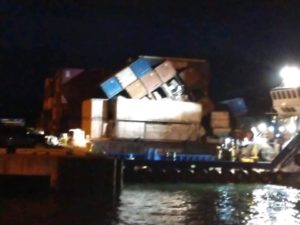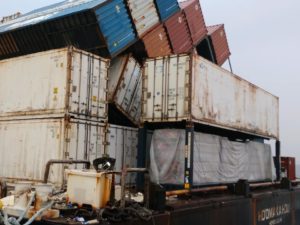 Tags: