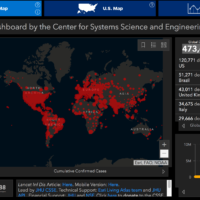 The Johns Hopkins COVID-19 Dashboard for Tuesday morning, June 23, at 7:33 a.m.:
Worldwide cases:  9,154,232   Worldwide deaths: 473,650
U.S. cases: 2,328,562   U.S. deaths:  120,913
According to the Dashboard, the worldwide cases increased by 147,475 in the last 24 hours,  and confirmed worldwide deaths grew by 4,430.
According to the Dashboard, the United States has added 37,209  cases in the last 24 hours, and deaths attributed to COVID-19 have increased by 807.  The case count and death count are both higher than in the last two weeks.
Several states are seeing a surge of COVID-19 cases, with 25 showing increases.  Florida topped 100,000 cases yesterday, and health officials there say the virus is growing especially in younger people.  The concern is that they might take it home to others who are more vulnerable.  Eighteen states have seen a rise in hospitalizations in the last two week, with Texas reaching a record.
Arizona has had 3,591 new cases in the last 24 hours, according to the Arizona State Department of Health, and about 10% of those tested have been positive.  The number of cases set a 24-hour record, and hospitalizations were also high at 2,000 new admissions for COVID-19.
Other states with large increases include South Carolina, Mississippi, Idaho, and Utah.
Johns Hopkins University has created a graphic that shows the progress in each state.  See below for the graphic, and click on this link to see the original.
Health officials say reopening businesses can proceed as long as people wear masks and continue physical distancing, which are currently the only proven methods of lessening the spread.
Hawaii has added 164 cases since June 1, and now has 816 cumulative cases.  The Big Island has added 4 cases in the last week, but currently, according to Hawaii County Civil Defense this morning, has 2 active cases.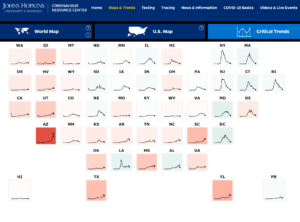 Tags: