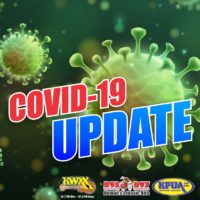 Hawaii's total case count, as of noon on Monday, June 29, 2020, is 900.  Two cases on O'ahu were added since Sunday, but one case was removed from Maui's count because of updated information provided to the State Department of Health.  DOH says 722 people have been released from isolation and are no longer being monitored.
The count today is a positive sign after Sunday's jump of 27 cases.  Those cases included 17 from people attending a funeral.  One case was in a bus driver for The Bus, O'ahu's municipal bus system, who drove from Monday through Friday even though sick.  The City and County of Honolulu has published the routes he drove and is in the process of trying to determine with whom he might have been in contact.
State DOH hasn't yet released any new information about today's newly reported cases.
The state has had 18 deaths from COVID-19.  The last one was reported on Friday, and the last before that was May 3.
Hawaii County
| | |
| --- | --- |
| Total Cases: | 87 |
| Released from Isolation: | 84 |
| Required Hospitalization: | 2 |
| Deaths: | 0 |
Honolulu County
| | |
| --- | --- |
| Total Cases: | 638 |
| Released from Isolation: | 505 |
| Required Hospitalization: | 82 |
| Deaths: | 12 |
Kauai County
| | |
| --- | --- |
| Total Cases: | 37 |
| Released from Isolation: | 20 |
| Required Hospitalization: | 1 |
| Deaths: | 0 |
Maui County
| | |
| --- | --- |
| Total Cases: | 122 |
| Released from Isolation: | 113 |
| Required Hospitalization: | 25 |
| Deaths: | 6 |
Out of state
| | |
| --- | --- |
| Total Cases: | 16 |
| Released from Isolation: | 0 |
| Required Hospitalization: | 1 |
| Deaths: | 0 |
Pending
| | |
| --- | --- |
| Total Cases: | 0 |
| Released from Isolation: | 0 |
| Required Hospitalization: | 0 |
| Deaths: | 0 |
Tags: