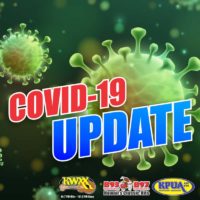 Hawaii has added 73 new cases of COVID-19, a record high daily increase.  There are none new reported on Hawaii Island, with 68 on O'ahu and 5 in Maui County.  The state has 1,620 cumulative cases with 1,167 released from isolation.
Hawaii Island has 8 active cases as of noon on Saturday.
Dr. Bruce Anderson and Dr. Sarah Park of State Department of Health have repeatedly said the solution to the state's rise in cases is in our hands–wear masks, stay apart, wash your hands.  No magic involved.
The State's noon detailed report:
Hawaii County
| | |
| --- | --- |
| Total Cases: | 117 |
| Released from Isolation: | 109 |
| Required Hospitalization: | 4 |
| Deaths: | 0 |
Honolulu County
| | |
| --- | --- |
| Total Cases: | 1,291 |
| Released from Isolation: | 892 |
| Required Hospitalization: | 128 |
| Deaths: | 19 |
Kauai County
| | |
| --- | --- |
| Total Cases: | 43 |
| Released from Isolation: | 42 |
| Required Hospitalization: | 1 |
| Deaths: | 0 |
Maui County
| | |
| --- | --- |
| Total Cases: | 146 |
| Released from Isolation: | 124 |
| Required Hospitalization: | 26 |
| Deaths: | 6 |
Out of state
| | |
| --- | --- |
| Total Cases: | 23 |
| Released from Isolation: | 0 |
| Required Hospitalization: | 2 |
| Deaths: | 1 |
Pending
| | |
| --- | --- |
| Total Cases: | 0 |
| Released from Isolation: | 0 |
| Required Hospitalization: | 0 |
| Deaths: | 0 |