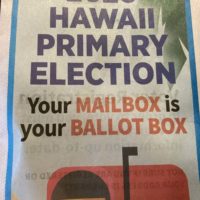 The two Hawaii County Voter Service Centers are now open, for late voter registration and for those who cannot vote by mail to vote using a voting machine….or if you need assistance.  You may also drop your completed ballot, in its proper envelope with your signature on the outside, at the Voter Service Centers.
The two Voter Service Centers:
-West Hawaii Civic Center, Community Building, Room G (74-5044 Ane Keohokalole Highway, Kailua-Kona, HI  96740)
-Aupuni Center Conference Room (101 Pauahi Street, Hilo, HI  96740
Hours:  Weekdays and Saturday through Friday August 7, 8 a.m. until 4:30 p.m.; Saturday August 8 7 a.m. until 7 p.m.
If you have not received your ballot by mail:  Call Hawaii County Elections Office at 808-961-8277
How to vote:
 Follow the instructions on the material you received:  vote one for the nonpartisan offices on one side of the ballot (Hawaii County Mayor, Hawaii County Prosecuting Attorney, your Council Member) **and note that these races may be decided in this primary if any candidate gets more than 50% of the vote
On the other side of the ballot, select one party for which to vote (there are 8 parties which have qualified) and then you may vote for one person in each race only within that party.  You cannot, for example, vote for one candidate from the American Shopping Party and one from the Green Party; you must keep all your votes on that side of the ballot within a party.  These partisan races will select the candidates who go on to run for their party in the General Election on November 3.
Then follow the instructions:  put your ballot in the secrecy envelope, put that envelope into the postage-paid return envelope, sign it on the outside so the Elections Office may verify your signature ***signature is mandatory, and then return it so it's at the Elections Office by Sat., August 8.  How?

1.  Put it in the US Mail no later than August 3, 2020, as it takes a few days for the mail.

2.  Drop it at either of the two Voter Service Centers.

3.  Put it in special boxes called Places of Deposit around the island; these boxes are open 24 hours a day from August 3 through  Saturday August 8 until 7 p.m.

-Hawaii County Building, 25 Aupuni Street, Hil0

-Na'alehu Police Station, 95-5355 Mamalahoa Highway, Na'alehu

-Pahoa Police Station, 15-2615 Kea'au-Pahoa Road, Pahoa

-Rodney Yano Hall, 82-6156 Mamalahoa Highway, Captain Cook

-Waimea Police Station, 67-5185 Kamamalu Street, Waimea

-West Hawaii Civic Center, 74-5044 Ane Keohokalole Highway, Kaila-Kona

The State Legislature voted for all vote by mail well before the COVID-19 Pandemic, after a trial "all vote by mail" in Kaua'i County.  This is the first "all vote by mail" election for Hawaii.  The General Election on Tuesday, November 3, in which the country will elect the President, Vice President, US Senators and Representatives, and Hawaii will elect its State House and Senate representatives.  If no candidate in a nonpartisan race (Mayor, County Prosecuting Attorney, County Council) gets more than 50% in the Primary, the top two in those races will face off.

Questions, want to confirm your ballot has been sent or received,  or information?  www.elections.hawaii.gov  or 808-961-8277

Tags: