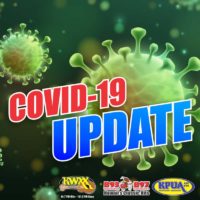 The State Department of Health says there are 236 new confirmed cases of COVID-19 in the state, following yesterday's addition of 261.  The total case count in the state is 5,844, with 3,768 active cases.  The state's death toll is up to 45.
Hawaii Island added 5 new cases, after 12 new in the past two days.  The number of active cases on the Big Island is now 30, according to State Department of Health, which tracks the overall situation in the state.  At least one person is in the hospital on the island with COVID-19.
Kaua'i again has no new cases.  Maui has two new cases.  All the rest of the cases –229– are on O'ahu, which now has 5,340 cumulative cases and 3,622 active cases.   This afternoon, Gov. Ige is scheduled to be joined at a press conference by Kaua'i Mayor Derek Kawakami and Maui County Mayor Mike Victorino.
There has been widespread criticism of the state's lack of transparency about contact tracing, relative to how many on which islands are doing the job, how long it's taking to contact those who have been confirmed to have COVID-19 and to call those with whom they may have been in contact.   On Wednesday, State Health Director Bruce Anderson and Emily Roberson, who is now handling contact tracing, addressed the situation.   Anderson and Roberson said there are now 126  126 people working on contact tracing and 13 support staff.  Roberson said there are 10 people on the Big Island doing contact tracing.
The Big Island has been experiencing a surge of cases.  Friday, there will be free COVID-19 testing at UH Hilo Gym, from 9 til 3 for students, and from 11 til 3 for the general public.  There are several other locations around the island offering COVID-19 testing.   Dr. Roberson said it's important to be tested if you are in contact with many people in the public, if you have been in close contact with somebody with COVID-19, and if you have symptoms.  Since 40% of the people with COVID-19 have no symptoms, it's important to be tested if you have been exposed.  She said the contact tracers are prioritizing how and when they contact people, including a focus on those over 65 as they are at more risk for serious complications.
Below is the noon report from State Department of Health.
Hawaii County
| | |
| --- | --- |
| Total Cases: | 164 |
| Released from Isolation: | 134 |
| Required Hospitalization: | 7 |
| Deaths: | 0 |
Honolulu County
| | |
| --- | --- |
| Total Cases: | 5,340 |
| Released from Isolation: | 1,681 |
| Required Hospitalization: | 276 |
| Deaths: | 37 |
Kauai County
| | |
| --- | --- |
| Total Cases: | 54 |
| Released from Isolation: | 50 |
| Required Hospitalization: | 1 |
| Deaths: | 0 |
Maui County
| | |
| --- | --- |
| Total Cases: | 263 |
| Released from Isolation: | 166 |
| Required Hospitalization: | 31 |
| Deaths: | 7 |
Out of state
| | |
| --- | --- |
| Total Cases: | 23 |
| Released from Isolation: | 0 |
| Required Hospitalization: | 2 |
| Deaths: | 1 |
Pending
| | |
| --- | --- |
| Total Cases: | 0 |
| Released from Isolation: | 0 |
| Required Hospitalization: | 0 |
| Deaths: | 0 |
Tags: