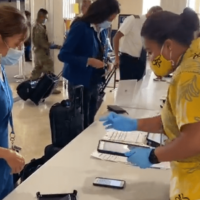 The State has announced that the new online Safe Travels application will be mandatory for all travelers starting tomorrow, Tuesday, Sept. 1, 2020.
This new digital application will collect the required health and travel information for all passengers, both interisland and for those coming from out of state.    The idea is to digitize and simplify the current paper-based process, and have one form for all travelers.  Travelers coming in from out of state will, however, still have to fill out the Agriculture Declaration Form manually.
Safe Travels is one part of a multi-layered screening process which includes arrival temperature checks, and secondary screening for those with symptoms or temperatures of 100.4 degrees Fahrenheit or higher. The application can be found at https://travel.hawaii.gov.
This new online application will provide the State Department of Health (DOH) access to the mandatory health information that passengers need to provide to ensure anybody who is ill can be further screened.  It can also be used by agencies which will enforce the mandatory 14-day quarantine now in effect for all travelers coming into the state and for anybody traveling interisland to any of the neighbor islands (there is no interisland quarantine for people traveling from a neighbor island to O'ahu).
Each traveling adult must fill out the Safe Travels form.  Adults may add minors to their form as well.
Travelers are encouraged to enter their information and trip details well in advance of their flight.  Then 24 hours before departure, travelers should return to the site and fill out the health questionnaire.   The form is not made available to the traveler until 24 hours in advance.
According to the State, once their health information is entered, they should receive a QR code via email.   The QR code on their mobile device or printed on paper gets scanned by the airport screener upon arrival.
Sample QR Code: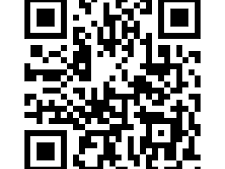 Passengers must bring the following with them:
–the QR code they get when they fill out the form, either on their mobile device or printed on paper
–a valid government-issued photo identification
–a cell phone, charged and ready
–if you have an exemption from the 14-day quarantine, bring your letter or other documentation with you
**For a quarantine exemption request for Hawaii County, which must be requested 5 days in advance, click here.
"Compared to paper processing, this online app will save travelers time at the airport and will speed up distribution of information to state and county officials who need it to keep us all safe," said Douglas Murdock, chief information officer, Office of Enterprise Technology Services, State of Hawaii.
The State says people without a cell phone will be assisted at the arriving airport, or may ask friends or relatives to be able to use their phone.  The release also says all travelers MUST have an email address.  The new Safe Travels app will be used for people in quarantine to check in and confirm they are following quarantine.   However, the State says the app does not allow tracking of the traveler to know where they are.
This new app was developed in partnership with Google and its premier partner, SpringML, at a cost of $638,000 for the initial implementation.  Funding for this project is provided by the Federal CARES Act.
New features and data elements will be added in future phases.
This project is being spearheaded by the State Office of Enterprise Technology Services, in collaboration with the State Department of Transportation, DOH, Dept. of the Attorney General, Hawaii Tourism Authority and the counties.
Photo and video courtesy State of Hawaii