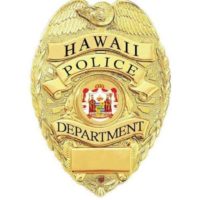 Hawaii County Police report that on Saturday, August 29, at approximately 5:00 pm,  Kona Patrol Officers responded to Kahaluʻu Beach Park for a reported COVID-19 Emergency Proclamation Violation.
Upon arrival, officers observed approximately 30 individuals gathered within the large pavilion not wearing masks or social distancing.
During this time, officers began to educate the group on the most recent Emergency Proclamation and gave them an opportunity to adhere to the restrictions. However, not all complied, which resulted in the arrest of five individuals.
They are identified as
–Gene Tamashiro, 53-years-old, of Hilo,
–Stefanie Nolff, 48-years-old, of Keaʻau,
–Diane Fischer, 65-years-old, of Kailua-Kona,
–Melody Harris, 60-years-old, of Kailua-Kona, and
–Michaele Ann Medearis, 53-years-old, of Holualoa.
Each of them were charged with three counts of Emergency Proclamation and one count of Failure to Disperse. Bail for each was set at $6,500.00.
Nolff, Fischer, Harris, and Medearis posted bail. Tamashiro remains in police custody pending his initial court appearance.
Mayor Harry Kim said last week that he had asked the Police Department to step up enforcement of the COVID-19 restrictions after cases on the Big Island began to spike.  Today the Big Island lost two members of the community when they died of COVID-19 at Hilo Medical Center.  Both had been residents at the Yukio Otsuku State Veterans Home.  Today there are at least 164 people on the island with known active cases.
Two people with COVID-19 spent Saturday night in Kona Community Hospital and were released today.  There are 18 people with COVID-19 in Hilo Medical Center.  North Hawaii Community Hospital has refused to release any information, so it's not known how many patients with COVID-19 it might have.  Their spokesperson said they believe if they release a number it will somehow violate patient privacy laws.  Most hospitals in the state are being very transparent about how many COVID-19 patients they have and whether they are in the ICU.