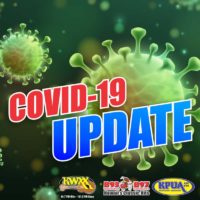 Hawaii has added 133 cases of COVID-19, which is either a good sign of decline after case count 200 or more for the last week, or it's a sign of labs not processing as many tests on Sunday as are usually processed.  The state's total count now is 8,472, with 5,824 active cases.
The state's death toll from COVID-19 is now 70.
The State Department of Health is charged with contacting each person with an active case of COVID-19, finding out with whom they were in contact, and then talking with their contacts to inform them they may have been in close contact with somebody with COVID-19.  Today Governor David Ige announced that Health Director Bruce Anderson will retire on Sept. 15, so his replacement, Dr. Libby Char, will have to determine how the contact tracing will happen.
Kaua'i has no new cases.  Maui County has one new case.  O'ahu has 107 new cases, and there is one additional case out of state.
The Big Island has added 24 cases, bringing the cumulative total to 364 cases.  There are 179 active cases.  Each of these individuals is supposed to be monitored and contact traced by the State Department of Health.  The State has said that Hawaii Island DOH has 10 contact tracers, but local officials have said they are pulling some people off their regular DOH jobs to join in the existing contact tracers.
The Big Island has had two deaths, both veterans who were residing at the Yukio Otsuku State Veterans Home and then were hospitalized when they became severely ill with COVID-19.  Both men had several underlying conditions, according to the Hilo Medical Center Public Information Officer, Elena Cabatu.
Hilo Medical Center, as of Sunday at 2 p.m., had 18 COVID-19 patients, with 3 in the Intensive Care Unit.
Kona Community Hospital had 2 COVID-19 patients who were hospitalized overnight, and released on Sunday.
Today, Queen's Health System CEO Dr. Jill Green said that Queen's North Hawaii Community Hospital has zero COVID-19 patients.  She also said the facility stands ready to assist Hilo Medical Center as needed.  She said on O'ahu patients are being moved around to different hospitals to spread out the case load.  She also said the hospitals in the state, working through the Hawaii Healthcare Association and FEMA and HIEMA (Hawaii Emergency Management Agency) have asked for help in getting additional workers, especially nurses, to be able to increase capacity.
The State's noon report:
Hawaii County
| | |
| --- | --- |
| Total Cases: | 364 |
| Released from Isolation: | 183 |
| Required Hospitalization: | 13 |
| Deaths: | 2 |
Honolulu County
| | |
| --- | --- |
| Total Cases: | 7,691 |
| Released from Isolation: | 2,149 |
| Required Hospitalization: | 448 |
| Deaths: | 59 |
Kauai County
| | |
| --- | --- |
| Total Cases: | 57 |
| Released from Isolation: | 55 |
| Required Hospitalization: | 1 |
| Deaths: | 0 |
Maui County
| | |
| --- | --- |
| Total Cases: | 335 |
| Released from Isolation: | 191 |
| Required Hospitalization: | 44 |
| Deaths: | 8 |
Out of state
| | |
| --- | --- |
| Total Cases: | 25 |
| Released from Isolation: | 0 |
| Required Hospitalization: | 2 |
| Deaths: | 1 |
Pending
| | |
| --- | --- |
| Total Cases: | 0 |
| Released from Isolation: | 0 |
| Required Hospitalization: | 0 |
| Deaths: | 0 |
Tags: