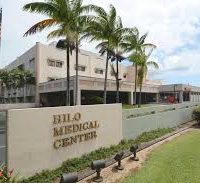 Hilo Medical Center is down to only 11 patients in the hospital with COVID-19.  The count of COVID-19 patients in the hospital has been as high as 18.
Below is the update as of Tuesday at 12:30 p.m., provided by the hospital's Director of Marketing and Public & Legislative Affairs, Elena Cabatu:
HILO MEDICAL CENTER UPDATE 
o   11 total COVID-positive patients are hospitalized: 2 in ICU, 9 in COVID Unit
o   Hilo Medical Center worked with Clinical Labs to make self-test kits available to employees caring for COVID patients.
o   Behavioral Health Update
The second round of surveillance testing for staff who had direct contact with the COVID-positive employee has been completed.
Admissions to the unit will restart, pending negative results of second surveillance testing.
Patients admitted to the unit going forward will require a negative test
o   YUKIO OKUTSU STATE VETERANS HOME UPDATE (as of 12:30 pm on Tuesday, September 1, 2020)
o   28 residents and 10 employees have tested positive for COVID-19
1 Yukio Okutsu State Veteran Home resident is currently hospitalized at Hilo Medical Center
2 released from hospital and returned to the veterans home for continued care
24 total residents are currently cared for at the veterans home's COVID designated area
No deaths today.   Since Saturday, there have been 3 total deaths related to COVID-19 with significant, underlying health issues.   Cabatu said the hospital and its staff  offer our sincerest condolences to the family and loved ones of these veterans who served our country.
o   Retesting of residents and staff started yesterday afternoon and continue today.

Judy Donovan, Marketing and Communications Manager for Kona Community Hospital,  said they have no COVID-19 patients.   The facility  had two overnight on Saturday who were released to home care on Sunday.

On Monday, Dr. Jill Hoggard Green, CEO of Queen's Medical Center on O'ahu, said that Queen's North Hawaii Community Hospital had no COVID-19 patients, and was ready to assist Hilo Medical Center as needed.  Today, Lynn Scully, the hospital's Marketing and Communications Manager, said in an email "The number of hospitalized inpatients at QNHCH with COVID-19 continues to be zero.  While the number stays at zero, we will continue to respond when asked."

Tags: