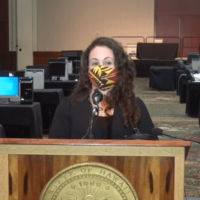 Dr. Emily Roberson, who was hired on July 16 to head up the State's contact tracing effort, has requested a leave of absence, amidst continued confusion at the State Department of Health and uncertainty about whether contact tracing is really happening.
In a recent press conference, the first with Dr. Emily Roberson, she said the Big Island had 10 contact tracers.   That was on August 19, when the island had 26 active cases.  Today, the island has 217 active cases.
The COVID-19 Joint Information Center says as of today, the Big Island has 40 contact tracers through the State Department of Health, with the responsibility of being in touch with each of those people with a COVID-19 case, ensuring they are in isolation, and finding out where they were prior to being tested positive and with whom they've been in contact so they too can be notified.
This information comes on a day on which the Star Advertiser is reporting that Roberson has asked for an indefinite leave, despite having only been hired on July 16.  Reporter Alison Schaefers says Roberson has cited confusion about who's in charge and whose orders she should be following.  Click here for the Star Advertiser story.
In an afternoon Telephone Town Hall, U.S. Representative Tulsi Gabbard said her information is that Dr. Sarah Park, the State Epidemiologist, has been blocking Dr. Roberson from effectively doing her job.  Dr. Park was responsible for contact tracing, but when Dr. Roberson was hired she was to report to State Department of Health Deputy Director Danette Wong Tomiyasu.  Rep Gabbard said from her observations and hearing from people inside the department, the solution to the current situation is to move Dr. Park out of the State Department of Health.
The COVID-19 Joint Information Center, in response to an email inquiry, said that contact tracing is under the aegis of Department of Health Deputy Director Danette Wong Tomiyasu.
The COVID-19 Joint Information Center confirmed reports from Big Island Department of Health employees that DOH employees who currently do other functions –mental health, child welfare, child welfare–are being told they will now be doing contact tracing.  The JIC said "priority program functions are still being maintained. "  When asked if the State DOH on the Big Island would hire some of those people who have been trained by the University of Hawaii, in a contact tracing program developed by DOH, the JIC response was "yes."  They also said that "all cases are being investigated and traced."
The State DOH has repeatedly noted that 400+ people have been trained in contact tracing.  There have been numerous complaints from those who have taken the classes that they are ready to work, but the DOH is not hiring many of the tracers.
On the Big Island, some people who have been at events where somebody has tested positive for COVID-19 say they either have not been contacted or have been contacted and told that it's not important for them to get a test.
The JIC also confirmed that Hawaii County Civil Defense has contact tracers, but they are doing a completely  different function–they are responsible for contacting travelers who are required to be in the 14-day quarantine.
Numerous local residents who have returned from traveling have reported the only contact made with them during quarantine was once at the start or during the middle of the 14 days, and then at the end of the 14 days, they got an email saying "Thank you for staying in quarantine."   Travelers are supposed to submit a daily form saying they are in quarantine and reporting on their health.  But those who've been in the quarantine have said there really was no real followup.  It's not clear if that situation has changed.
Today, the Joint Information Center provided this chart showing the number and locations of Contact Tracers in the State.  According to State Department of Health,  O'ahu currently has 5,843 active cases.  Maui County has 141 active cases.  Kaua'i has 2 active cases.  Hawaii Island has 217 active cases.
Oahu

129

DOH DOCD

17

DOH Public Health Nurses

29

Other DOH

10

National Guard

28

RCUH Contract

43

MRC Volunteers

2

40

DOH DHO

14

DOH Public Health Nurses

16

Other DOH

2

MRC Volunteers

8

Maui

23

DOH DHO

2

DOH Public Health Nurses

18

MRC Volunteers

3

Kauai

20

DOH DHO

14

DOH Public Health Nurses

6
Photo is Emily Roberson, PhD, at the Governor's August 19 press conference, from a screen shot.