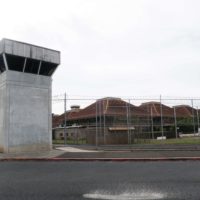 The County Prosecuting Attorney's office has released a list of prisoners who are being released from Hawaii Community Correctional Center because of court orders requiring that the State Department of Public Safety, which manages the state's prisons, reduce the number of inmates incarcerated because of the COVID-19 pandemic.
As of Wednesday afternoon, the Department of Public Safety said 360 inmates and staff had tested positive, but almost all are at O'ahu Community Correctional Center, and none are at HCCC.
First Deputy Prosecuting Attorney Dale Ross said the Prosecuting Attorney's office got a list of qualified HCCC inmates on Monday, August 24, 2020,  from the Department of Public Safety.   The Hawai'i County Prosecutor's Office opposed the release of 93 out of 132 Defendants.  Many of these 93 Defendants had more than one case pending before the court.
By the deadline on Wednesday, August 26, Hawai'i County Prosecutors filed 185 memoranda opposing the release of HCCC inmates whom Prosecutor's believed posed a significant risk to themselves or the community.  As a result, the Circuit Court denied the release of 69 inmates; however, 24 inmates were ordered released over Prosecutor's objections.
The most common offenses for released Defendants are property crime such as theft, unauthorized control of propelled vehicle, forgery, and felony drug possession, prohibited possession of illegal firearms and firearms by felons.  The Hawai'i County Prosecutor's Victim Assistance Unit contacted all victims in the involved cases to notify them of the possibility of inmate releases.
The Circuit Court issued three types of release orders:
–pretrial felony inmates were ordered on supervised release,
–sentenced felony inmates were granted temporary suspension of incarceration with terms, and
–felony inmates pending revocation of probation were ordered to be released and given a future court date.
All released inmates are ordered to immediately contact their attorney or probation officer, if on probation.   HCCC staff is supposed to find places for inmates to quarantine for 14 days pursuant to the Supreme Court order.  A new program run by Going Home Hawai'i has 9 beds in Hilo for released inmates that are homeless.
The following felons were granted released over prosecutors' objections:
Latasha Harrison
Gabriel Callo
Emalia Vaefaga
Lawrence Abiley
Ronald Altura
Thomas Charles
Mikah Costa
Dean Duarte
Richard Elliston
Aaron Kealii Gomes
Keone Hiilei
Joby Iona
Garrett Lokalualahaina Lee
Anthony Mercer
Solomon Moses
Alika Sullivan
Marcus Tilton
Roy David William
The remaining inmates who were granted release over prosecutor's objections are felony pre-trial defendants.

Ross said the office remains concerned about inmates who were released over objection, but the public should know that all previously ordered conditions, including restraining and no contact order and geographic bans continue to be in effect.  Violations should be reported immediately to the police.

Prosecuting Attorney Mitch Roth, who is running for Mayor, has stepped back from most duties of the office for now, putting Ross in charge.  Roth has said he's reviewed the documents and is disappointed the courts overruled the prosecutors' objections to the releases.

Tags: