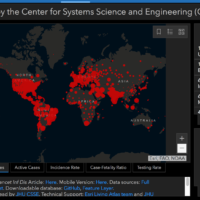 The Johns Hopkins COVID-19 Dashboard for Thursday, September 3, at 5:28 a.m.:
Worldwide cases: 26,074,609     Worldwide deaths: 864,153
U.S. cases: 6,115,276     U.S. deaths:  185,958
According to the Dashboard, the reported worldwide case report increased by 265,094 in the last 24 hours.  Deaths worldwide increased by more than 6,081.
According to the Johns Hopkins Dashboard, the United States has added 33,016 cases in the last 24 hours.  In that time,  the number of reported deaths from  COVID-19 increased by 1,048.
On Wednesday, the State Department of Health reported adding 339 confirmed COVID-19 cases, the highest number yet, for a total number of COVID-19 cases in the state at 8,991, with 6,227 active cases.  The Big Island's total case count on Wednesday was reported at 418, with 35 new cases yesterday and 217 active cases.
The State's death toll officially is 75, and the Big Island has had 4, all veterans from the Yukio Okutsu Veterans Home in Hilo.  Three of those deaths are in the "official" death toll, as the last one was confirmed yesterday afternoon.  All four veterans had significant underlying health conditions, meaning they were unable to fight off the coronavirus.
Yesterday afternoon there were only 8 people in Hilo Medical Center, 2 in the ICU, and 6 in the COVID-19 unit.  This is down from a high of 18, and down from Tuesday's hospitalization count of 11.
Photi is the Hilo Medical Center COVID-19 unit, (left to right) Jarett Morales (Medical Unit), Michael Palmerston (Progressive Carr Unit), Keely McGhee (Surgical/Pediatric Unit), Maraea Castro (Surgical/Pediatric Unit), and Casey Agpoon (Environmental Services)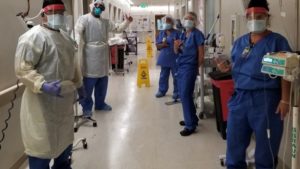 Tags: