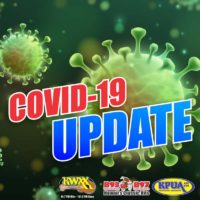 The State Department of Health's noon report: 100 new cases of COVID-19, with 10,123 cumulative and at least 6,312 active.  The State report says 91 people have died from COVID-19.  That is an addition of 3 since yesterday, but the State Department of Health is not counting most of the deaths of residents of the Yukio Okutsu Veterans Home that have occurred since August 29–only 3 are listed for the Big Island.  As of this morning, Hawaii County Civil Defense says 10 residents have passed away from COVID-19, all residents of the Yukio Okutsu Veterans Home.
The State Department of Health explained in an email why the deaths on the island are not yet included in the count:  "The hospital requires physicians to certify the death; sometimes that takes time to complete.    Once that is done, the facility notifies DOH of the death by telephone.   The process begins and DOH requests necessary documentation to verify the death as a legitimate COVID-19 death and then it coded and accepted as such in the DOH's reporting database. Only then will the death be counted and announced to leadership to be included into the counts."
The Big Island has 12 new cases reported today (though the State says 2 were removed from the Big Island's overall numbers due to updated information), with a cumulative total of 533 cases, and at least 286 active.
Neither Kaua'i nor Maui have any new cases.  O'ahu has added 88 cases.
The state's detailed noon report:
Hawaii County
| | |
| --- | --- |
| Total Cases: | 533 |
| Released from Isolation: | 237 |
| Required Hospitalization: | 21 |
| Deaths: | 3 |
Honolulu County
| | |
| --- | --- |
| Total Cases: | 9,146 |
| Released from Isolation: | 2,613 |
| Required Hospitalization: | 533 |
| Deaths: | 78 |
Kauai County
| | |
| --- | --- |
| Total Cases: | 58 |
| Released from Isolation: | 57 |
| Required Hospitalization: | 1 |
| Deaths: | 0 |
Maui County
| | |
| --- | --- |
| Total Cases: | 360 |
| Released from Isolation: | 213 |
| Required Hospitalization: | 47 |
| Deaths: | 9 |
Out of state
| | |
| --- | --- |
| Total Cases: | 26 |
| Released from Isolation: | 0 |
| Required Hospitalization: | 2 |
| Deaths: | 1 |
Pending
| | |
| --- | --- |
| Total Cases: | 0 |
| Released from Isolation: | 0 |
| Required Hospitalization: | 0 |
| Deaths: | 0 |
Tags: