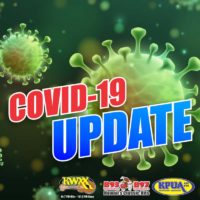 The state is reporting 131 new cases of COVID-19.  The state's total case count is 10,588, with more than 7,000 active cases.
Hawaii Island added 10 to its case count.  The island's total case count is 572, with around 284 active cases.  Hilo Medical Center earlier today reported it has 19 patients with COVID-19.  It also reported that one patient who tested negative when admitted has now tested positive, 11 days later, so the hospital has now restricted visitors to just the OB ward, pediatrics, and end-of-life patients.  The hospital screened and tested employees and 21 employees are now quarantined pending results.  Elena Cabatu, hospital spokesman, said the hospital has enough employees with some working overtime to fill the gap.
Although the state's official report from Department of Health shows 3 Hawaii County deaths, there have been 11 known deaths on the island from COVID-19, ten of whom were residents at the Yukio Okutsu Veterans Home.
Kaua'i has no new cases, with 58 total; Maui County added 6, with 373 total;  and O'ahu added 115, with 9,559 total.
Hawaii County
| | |
| --- | --- |
| Total Cases: | 572 |
| Released from Isolation: | 277 |
| Required Hospitalization: | 24 |
| Deaths: | 3 |
Honolulu County
| | |
| --- | --- |
| Total Cases: | 9,559 |
| Released from Isolation: | 2,853 |
| Required Hospitalization: | 561 |
| Deaths: | 84 |
Kauai County
| | |
| --- | --- |
| Total Cases: | 58 |
| Released from Isolation: | 57 |
| Required Hospitalization: | 1 |
| Deaths: | 0 |
Maui County
| | |
| --- | --- |
| Total Cases: | 373 |
| Released from Isolation: | 231 |
| Required Hospitalization: | 47 |
| Deaths: | 9 |
Out of state
| | |
| --- | --- |
| Total Cases: | 26 |
| Released from Isolation: | 0 |
| Required Hospitalization: | 2 |
| Deaths: | 1 |
Pending
| | |
| --- | --- |
| Total Cases: | 0 |
| Released from Isolation: | 0 |
| Required Hospitalization: | 0 |
| Deaths: | 0 |
Tags: