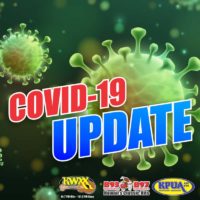 The State Department of Health reports there are 87 new confirmed cases of COVID-19 statewide.  The state total is now 12,290, with around 1900 active.  The state is reporting 134 deaths, but that does not include all of the Hawaii County deaths.  The latest 2, announced today, are on O'ahu, but the state has not provided any detail.
There are no new cases for Kaua'i, 2 new cases in Maui County, and  2 new cases in Hawaii residents out of state.
The Big Island has 3 new cases.  That brings the island's total case count to 703, with 77 active cases.  The island has lost 28 people to COVID, but State DOH is only putting 15 in the formal count.  The active case count is the number of total cases (703) minus the number "released from isolation" minus the deaths, in this case, 28.