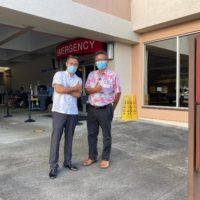 Hilo Medical Center has only 11 patients with COVID-19, down from its highest count of 18.  Kona Community Hospital still has two patients with COVID-19, one of whom is on a ventilator.
There have been no new deaths reported on the island.
The attached photo is Hilo Medical Center CEO Dan Brinkman with Kona Community Hospital's new CEO, James Lee, during a tour of Hilo Medical Center.
Below is the complete Hilo Medical Center/Yukio Okutsu Veterans Home.
HILO MEDICAL CENTER UPDATE (as of 3:00 pm on Tuesday, September 29, 2020)
11 total COVID-positive patients are hospitalized: 3 in ICU, 7 in COVID Unit, 1 in Extended Care Facility
COVID testing for the Extended Care Facility's 52 staff and 28 residents that was conducted on September 24 and 29 have all returned negative.
Admissions to our Extended Care Facility remain paused until the situation is resolved.
Hilo Medical Center is optimistic in managing COVID in the hospital and its long term care facility.
2 total deaths, unrelated to the veterans home, have occurred in the hospital on September 8 and 18.
YUKIO OKUTSU STATE VETERANS HOME UPDATE (as of 3:00 pm on Tuesday, September 29, 2020, reported by Avalon Healthcare, the veterans home's managing company)
Good news: There has been an improvement in hospitalized and recovered cases of residents. Yesterday, all results from this last round of resident and staff came back NEGATIVE.
A total of 71 residents and 35 employees have tested positive for COVID-19 in this outbreak
49 residents are currently at the Yukio Okutsu State Veterans Home
8 residents are receiving care in the home's COVID designated area
1 resident is hospitalized at Hilo Medical Center
26 total resident deaths related to COVID-19 have occurred. We offer our deepest sympathies to the families and loved ones.
o   No deaths related to COVID-19 to report today.

28 total deaths related to COVID-19 have occurred – 26 from the Yukio Okutsu State Veterans Home and 2 unrelated to the veterans home.

Tags: