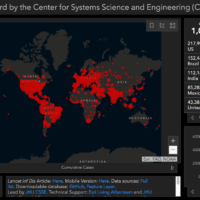 The Johns Hopkins COVID-19 Dashboard for Friday, October 16, at 5:24 a.m.:
Worldwide cases: 39,032,342    Worldwide deaths:  1,099,950
U.S. cases: 7,988,893   U.S. deaths:  217,904
According to the Dashboard, the reported worldwide case report increased by 411,846 in the last 24 hours.  Deaths worldwide increased by 6,029.
According to the Johns Hopkins Dashboard, the United States has added 60,918 cases in the last 24 hours.  In that time,  the number of reported deaths from  COVID-19 increased by 749.
According to Johns Hopkins University, 32 states' cases are going up.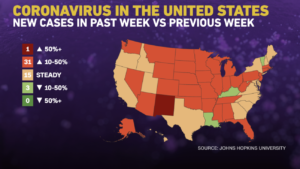 The Centers for Disease Control (CDC) data shows that Hawaii for the last 7 days had the 10th lowest case count per 100,000 population (6) among all US States and territories, slightly fewer than New York (6.8).

Tags: