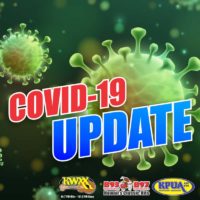 The State Department of Health reports there are 96 new cases of COVID-19 in the state. That brings the state's total count to 13,949, with 2,768 active cases.
The state is reporting 186 deaths. That includes only 18 of the Big Island's 40 deaths. Kona Community Hospital reported one new death of a hospitalized patient on Thursday afternoon, and that facility had one previous death of a patient who had come in to the Emergency Room but was already critically ill. There have been 37 deaths on the East side of the island, plus the two reported by Kona Hospital.  The deaths in Hilo include 7 community members at Hilo Medical Center, 4 at Life Care Center of Hilo, and 27 residents of Yukio Okutsu Veterans Home.
O'ahu has 81 new cases, there are 2 new cases in Hawaii residents out of state, and Kaua'i has 1 new case.  Maui County added none.
The Big Island has 12 new cases. The island's total is now 1,038 total cases. There are approximately 237 active cases.
The Johns Hopkins School of Public Health considers a positivity rate of no more than 5% a goal to keep the virus from spreading widely.
As of yesterday, the positivity rate over the past 14 days in Kailua Kona, zip 96740, was 5.4%.   Today it is 4.6%.  The positivity rate in areas just north of Hilo:   96781 (Papaiko) was 5.2% yesterday, and today, 5.8%. Zip 96783 (Pepeekeo) was 5.8% yesterday, and today, 7.2%.  The positivity rate in Hilo, 96720, over the past 14 days as of yesterday was 2.2% and today it's 2.3%.  Zip 96737, Ocean View, has a 10.4% positivity rate, and the County set up a test site at Kahuku Park today until noon because of that.  Note that the zips are where those testing positive for the virus live, not necessarily where they were exposed to the virus.
Mayor Harry Kim revealed to the Economics Development Committee of the Hawaii Island Chamber of Commerce that the County is soon getting 3 Mobile COVID-19 Testing Units, which will help with more frequent testing in rural areas.  If positivity rates in areas start going up, residents in that area will be encouraged to get tested.  Many of those who test positive have no symptoms.  Kim said he has been surprised to see that many of the recent cases are in younger people, under 40, even somebody as young as 2!
The State's detailed report:
Hawaii County
| | |
| --- | --- |
| Total Cases: | 1,038 |
| Released from Isolation: | 761 |
| Required Hospitalization: | 55 |
| Deaths: | 18 |
Honolulu County
| | |
| --- | --- |
| Total Cases: | 12,398 |
| Released from Isolation: | 9,799 |
| Required Hospitalization: | 886 |
| Deaths: | 149 |
Kauai County
| | |
| --- | --- |
| Total Cases: | 60 |
| Released from Isolation: | 58 |
| Required Hospitalization: | 1 |
| Deaths: | 0 |
Maui County
| | |
| --- | --- |
| Total Cases: | 411 |
| Released from Isolation: | 377 |
| Required Hospitalization: | 57 |
| Deaths: | 18 |
Out of state
| | |
| --- | --- |
| Total Cases: | 42 |
| Released from Isolation: | 0 |
| Required Hospitalization: | 2 |
| Deaths: | 1 |
Pending
| | |
| --- | --- |
| Total Cases: | 0 |
| Released from Isolation: | 0 |
| Required Hospitalization: | 0 |
| Deaths: | 0 |
Tags: