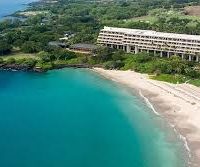 As tourists are returning to the island and state under the pre-travel testing, and on the Big Island at this point the post-travel test, The Kohala Coast hotels are reopening for overnight stays.  The Mauna Kea Beach Hotel reopens November 1.  The Mauna Lani reopens November 7.  And the Fairmont Orchid is now booking and resuming full operations on November 13.
All the hotels have implemented extensive cleaning  processes and all visitors are required to wear masks in public areas.
For more about the Mauna Kea Beach Hotel, click here.  (Photo attached.)
For information about the Mauna Lani Hotel, click here.
For more about the Fairmont Orchid, click here.
Mauna Lani Hotel:                                                                   Fairmont Orchid: